SAWC 2020 Virtual July 2020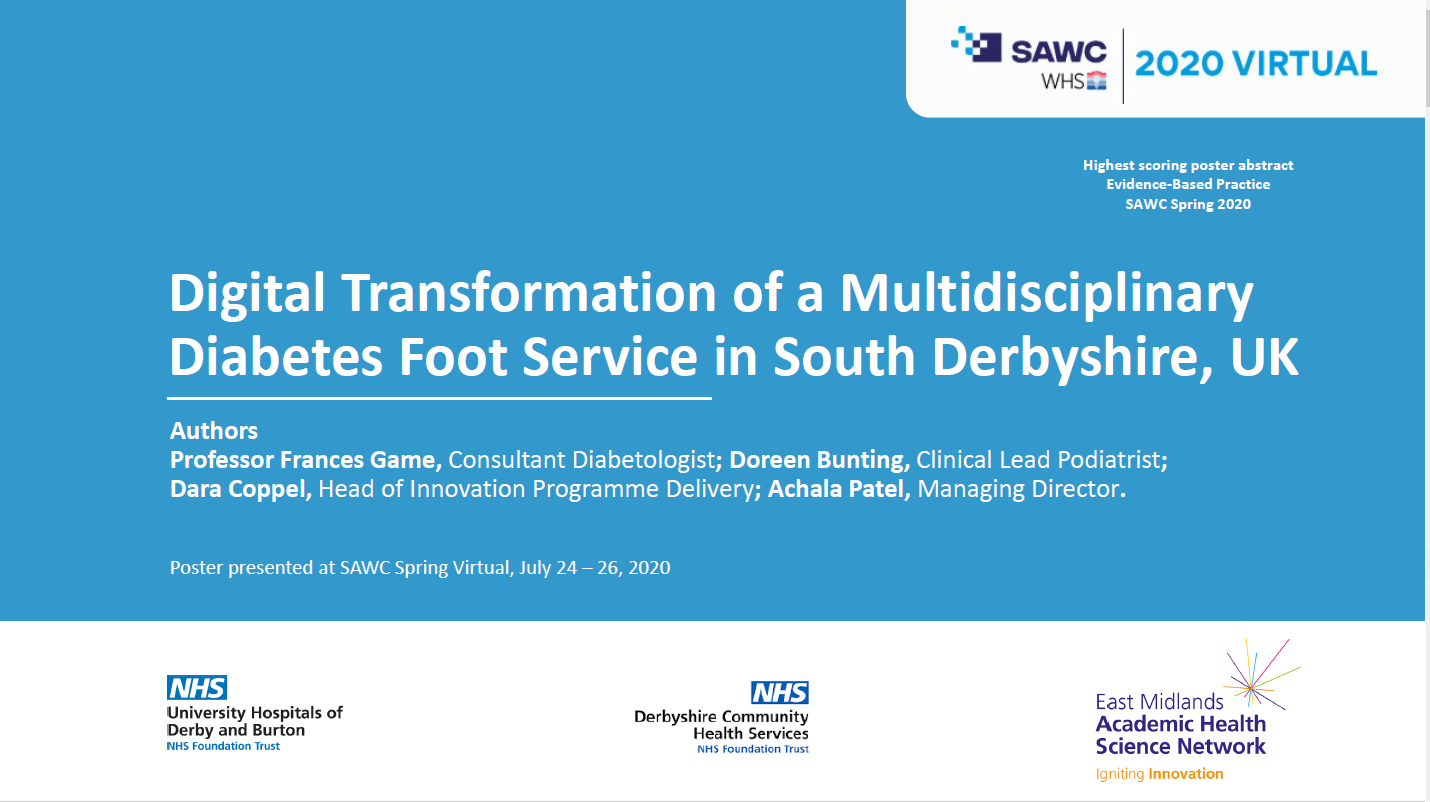 Download SAWC 2020 VIRTUAL e-Poster (A4 PDF format)
© Professor Frances Game (primary author), Doreen Bunting, Dara Coppel, Achala Patel (July 2020).
South Derbyshire has a well-established, integrated multidisciplinary diabetes foot team (MDFT) service. The service was facing increasing pressures from growing demand and challenges with capacity, both factors significantly affecting patient experience and service access. There were a number of barriers to increasing outpatient capacity due to availability of health care professionals, clinical space and the high costs associated with this type of service expansion.
A new model of care has been developed to release capacity in acute clinics and support care closer to home for patients. A digital wound imaging and data management system (Silhouette, ARANZ Medical) has been deployed as a technology enabler to support digital transformation of the integrated MDFT service. Patients can now be seen in community clinics, led by Podiatrists, close to the patient's home. Escalation and de-escalation of care is facilitated with remote access to real time diabetes foot ulcer assessment data.
The results and key learnings are discussed, higlighting:
Improved communication across the pathway to support improvements in patient care and experience
Successful transition of MDFT care from hospital out-patient care to community clinics, closer to patient's home
Reduced cost of service delivery based on tariff costs differentials between acute and community
Improved patient satisfaction on time to be seen and confidence in care
Maintenance of clinical quality and outcomes
Learn more
Contact Entec Health on 07917 007859 to discuss your requirements for digital technologies for wound care transformation.