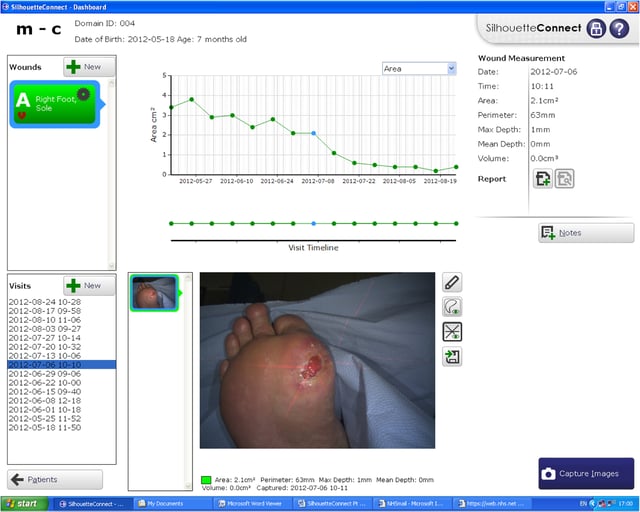 Clinical System to support wound care pathways - SilhouetteConnect wound assessment and wound healing progress chart and data screen*
Beyond EPR - A need for IT Investment in Clinical Systems, Informatics and Applications
After over a decade of focus, investment and a tough journey in implementing EPR and EMR systems (electronic patient record/electronic medical record systems), there is an understanding that EPR systems are not a universal, all singing/all dancing solution to meet all the digital needs of the NHS. There is a new emphasis in the air that serious consideration should be given to front-line technology that can help deliver excellence in clinical care combined with optimising clinical productivity and efficiency. That means Healthcare Providers identifying and adopting clinical systems and applications which address specialist clinical areas with sufficient depth of functionality to be of meaningful use and value.
Five Year Forward View - digital health technology is key to service transformation
At a recent
Technology Forum hosted by Health Service Journal (HSJ) in London,
HSJ experts and key note speakers
highlighted some key themes on the Department of Health's technology strategy to support the Five Year Forward View:
1) DH will be looking for NHS Provider Trusts to invest in digital technology that improves clinical quality, productivity and efficiency.
2) NHS Trusts will be required to seize opportunities to adopt technology that supports new models of care that respond to needs of patients, improve service access and optimise service cost-effectiveness.
3) CCGs will be developing digital roadmaps and reviewing digital maturity index of Provider Trusts to support service transformation, capacity planning and capability building from 2016 onwards.
Digital wound assessment system to support clinical improvement and innovation in chronic wound care pathways
It is reported that the NHS currently spends £3 billion on provision of wound care services for patients with chronic wounds (Posnett 2007). There is a significant opportunity in the NHS to improve clinical management of patients with chronic wounds such as diabetic foot ulcers, leg ulcers, and pressure ulcers to optimise patient outcomes and cost-effectiveness (Vowden 2009, Moore 2005). Silhouette is an innovative digital wound assessment and information management system which can support technology-enabled clinical transformation in wound care pathways to support delivery of the Five Year Forward View:
i) Enhances clinical productivity, effectiveness and efficiency
- Silhouette automates wound assessment tasks and produces objective digital wound progress data to enable evidence-based, standardised wound assessment practice and treatment planning, with time saved in data capture and data sharing.
ii) Enables new models of care and service delivery - Silhouette supports integrated care pathways and teleconsultation models of care. Silhouette data is managed on secure, web-enabled database hosted on NHS/Client server. The care team can access Silhouette digital wound information remotely along care pathway - saving time, supporting integrated care, increasing reach of specialist HCPs, reducing hospital visits, increasing capability to care for patients with chronic/complex wounds in community.
iii) Supports Strategic Digital Transformation - CCGs are expected to respond well to Provider Trusts going forward with Silhouette investment - Silhouette is a proven solution involving low risk implementation and moderate price point tech investment with capability to deliver tangible benefits for staff productivity, patient experience/outcomes and potential financial savings within short time-frame.
Find out more:
Download Silhouette Prospectus
Visit Silhouette for clinical practice:
Contact Entec Health to arrange a Silhouette demonstration meeting:
*SilhouetteConnect screen image reproduced by kind permission of King's College Hospital NHS Foundation Trust