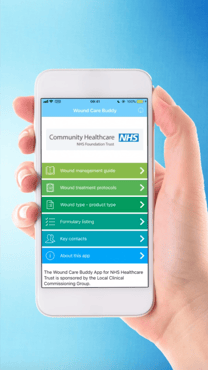 New from Entec Health, supported by Wounds UK
Wound Care is seeing a major shift towards a greater focus on outcomes and evidence-based practice to reduce variation in care and enhance patient experience.

There is recognition that we have come a long way on our journey in managing patients with wounds. However, the recent study by Guest et al "Health economic burden that wounds impose", Betty's Story from NHS RightCare and the CQUIN for wound assessment indicate that we have a big opportunity to further advance what can be achieved.

The challenges are there too in delivering safe, effective patient care. Growing demand from an increasing elderly population, financial constraints, not enough hours in the day, staff shortages and keeping up with training are everyday pressures.

This year's Wounds UK Conference theme is Data, Science and Practice, a very timely and apt focus on data-led, evidence-based practice. Wounds UK Harrogate is a perfect place to take a step back and seek out insights, innovation and inspiration on improving practice and patient care.

Entec Health will be at Wounds UK Harrogate, 5-7 November 2018, to be part of this mission, to help with new ways of working to achieve success with better practice and better outcomes.

Entec Health invites you to join the team at Stand 73 to learn more about our innovative digital technologies for wound care transformation:

The Wound Care Buddy App, supported by Wounds UK, makes best practice and formulary compliance easy. The digital solution gives clinicians instant access to the Trust's wound management guidelines and recommended formulary products. Available on iOS and Android mobile devices at the point of care.

The Silhouette digital wound assessment system, developed by ARANZ Medical, makes it possible to image, measure and chart wound healing progress at the point of care. The digital solution gives clinicians secure, remote access to wound status data to support integrated care and new models of care.

3 ways to discover more…

1/ Find us at stand 73 at Wounds UK Harrogate. Book a Digital Technologies for Wound Care demo meeting with Entec Health

2/ Learn more on the successful implementation of the Wound Care Buddy App at Hounslow and Richmond Community NHS Trust here.

3/ Check out our videos on innovative healthcare technologies for wound care
transformation.

Look forward to seeing you at Wounds UK Harrogate 2018.

Best wishes,
Entec Health Team

Email: sales@entechealth.com
www.entechealth.com

Wound Care Buddy App © Entec Health Limited April 2017 ALL RIGHTS RESERVED





Share this entry