Learn more about how Silhouette is supporting integrated diabetes foot care in South Derbyshire
Video by kind permission of East Midlands Academic Health Science Network
A new video from East Midlands Academic Health Sciences Network (EMAHSN) gives an insider view on South Derbyshire's technology-enabled diabetes foot care service which is deploying Silhouette®, an innovative digital wound assessment solution.
The new model of care is supporting efficient MDFT service access across Derby Teaching Hospitals NHS Foundation Trust and Derbyshire Community Health Services NHS Foundation Trust by enabling care in community clinics with oversight from acute MDFT clinical leads. The Silhouette solution is empowering staff with remote access to real time diabetes foot ulcer assessment data including digital images, 3D measurements, ulcer healing charts and electronic clinical notes, making referral of care a much simpler process for the clinician.
The video features the Lead Clinicians from the NHS Provider Trusts, the Clinical Commissioning Lead, Patients and collaboration partners EMAHSN as the innovation catalyst and industry partners Entec Health Limited and Aranz Medical Ltd.
Watch the video to get a close and personal account of the digital health innovation journey and the benefits gained from the adoption of the new Silhouette technology in the South Derbyshire diabetes foot care pathway.
Testimonials from the featured EMAHSN video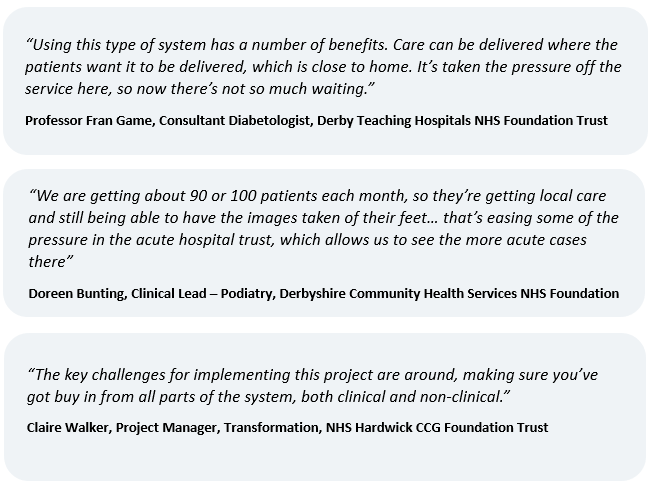 Learn more
Download new case study, Diabetes Foot Care – Integrated diabetes foot pathway, South Derbyshire, February 2019
Visit Silhouette for Diabetes Foot Management Application
Book a conversation or Silhouette demonstration meeting with Entec Health: Email us at sales@entechealth.com