Wounds UK are delighted to announce that they will be supporting the Wound Care Buddy App, a new mobile app launched by Entec Health Limited.
Entec Health and Wounds UK share a mission to promote best practice in wound care, through a variety of innovative and accessible resources.
The Wound Care Buddy App is a new cloud-based service developed and hosted by Entec Health. This platform allows organisations to tailor their own content providing fast and easy access to their organisation's wound management guidelines and formulary product listing on mobile devices at the point of care.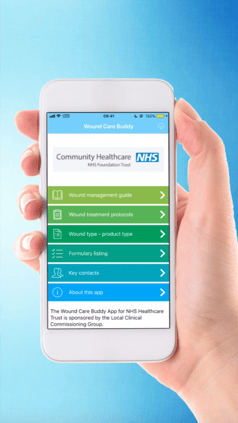 Wound Care Buddy App - Sample Home Screen
© Entec Health Limited
Watch the Wound Care Buddy App video here
Wounds UK are pleased to be supporting the introduction and availability of the App which embraces the advantages of digital health to facilitate standardised care and enhanced outcomes.
Rob Yates, Managing Director, Wounds UK said "The team at Wounds UK have been impressed by the technology developed by Entec Health. For us, it was clear to see the clinical and practical benefits that the Wound Care Buddy App offers clinical staff and service providers. We are therefore very pleased to be supporting Entec Health in this exciting venture and look forward to facilitating its wider use and adoption around the UK."
The App is aimed at supporting the multi-disciplinary team at the forefront of wound care services, including TVNs, District Nurses, Practice Nurses and Link Nurses.
The Wound Care Buddy App offers several benefits:
equips and empowers wound care teams to achieve consistency, best practice and compliance with formulary
increases efficiency and independence of nursing staff as essential information is available instantly when treating patients
generates insightful analytics to demonstrate user engagement by content area
The Wound Care Buddy App is available for purchase by organisations, as an enterprise solution. Users are issued with a licence key once the client account is set up.
Achala Patel, Managing Director, Entec Health added "I am very excited to have Wounds UK supporting the Wound Care Buddy App. Wounds UK is one of the most respected organisations in the sector for professional education. Entec Health is proud to work with Wounds UK to put innovation in the hands of health professionals, to enable better ways of working and support advances in patient care."
Read about Hounslow & Richmond Community NHS Trust's successful implementation of the Wound Care Buddy App
Contact Entec Health for further details:
Email sales@entechealth.com
Visit Wound Care Buddy App website
Copyright Wound Care Buddy App © Entec Health Limited April 2017 ALL RIGHTS RESERVED
Share this entry