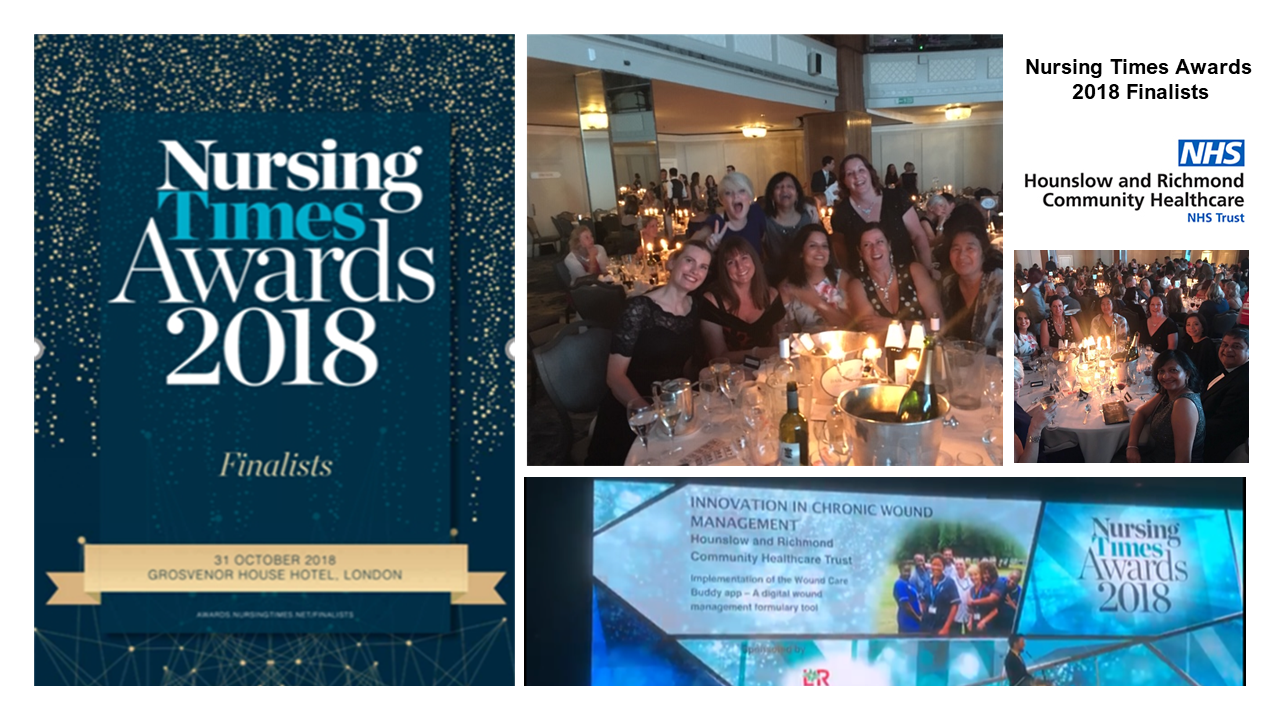 Hounslow and Richmond Community Healthcare NHS Trust Tissue Viability team celebrate Nursing Times Awards 2018 Finalists achievement with collaboration partner Entec Health
Nursing Times Awards 2018 celebrates nursing achievements and innovation
Hounslow and Richmond Community Healthcare NHS Trust (HRCH) has been announced as a deserving finalist in the prestigious Nursing Times Awards 2018. The HRCH Tissue Viability team were selected as finalists in the Innovation in Chronic Wound Management category, for their successful implementation of a wound care mobile app which supports wound management and formulary compliance. The app, known as the Wound Care Buddy App, is developed and hosted by Entec Health, a company specialising in digital technologies for wound care transformation.
The HRCH Trust is the first organisation in the NHS to adopt the Wound Care Buddy App as part of their commitment to enabling their nurses to deliver the best patient care possible. The Wound Care Buddy App has been very well received at the Trust. There has been positive impact for the Tissue Viability Nursing team and District Nurses, helping staff to access essential wound management information rapidly when needed and to use their time more effectively.
As collaboration partners in the successful adoption of the Wound Care Buddy App by the Trust, Entec Health were fortunate enough to join the NT Awards celebrations with the HRCH team on 31st October 2018, at the Grosvenor House Hotel, London.
Achala Patel, Managing Director, Entec Health said "My congratulations to the Tissue Viability team at Hounslow and Richmond Community Trust. The Nursing Times Awards night in London was very special. It gave the collaboration team a chance to step back and enjoy the achievement of taking forward a digital initiative for community nursing which is now benefiting clinicians and patient care at the Hounslow and Richmond Community Healthcare Trust. I would like to convey my special thanks to Edwin Chamanga, former Tissue Viability Lead at the Trust who initiated the project and Lillah Irwin, Tissue Viability Nurse and Amrit Mangal, Lead Administrator (Specialist Nursing) who have shown great commitment in ensuring successful implementation of the Wound Care Buddy App for the Trust. "
See a Virtual Tour of the Wound Care Buddy App
Email sales@entechealth.com to book a conversation or demonstration to find out more.
Acknowledgement:
The Nursing Times Awards 2018 Innovation in Chronic Wound Management Category is kindly sponsored by L&R, a wound care and compression therapy products company.
Wound Care Buddy App © Entec Health Limited April 2017 ALL RIGHTS RESERVED
Share this entry