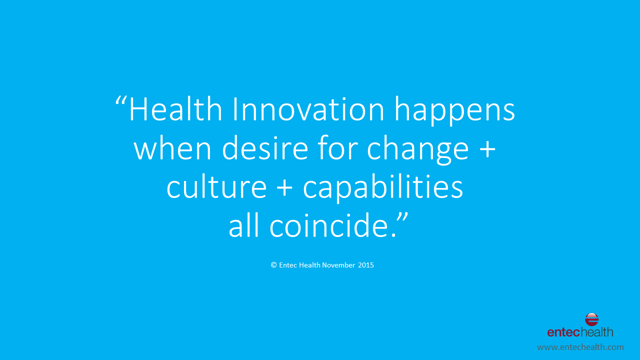 Health Innovation - key to a sustainable future
Health Innovation is vital to every healthcare system in the world. Health Innovation can be defined as a pro-active, patient-centric response to delivering "fit for purpose" healthcare services in an ever changing landscape. In a "fit for purpose" healthcare service - patients, payers, commissioners and relevant stakeholders - are assured of excellence in patient outcomes and a health service which is equitable, value for money, appropriate to socio-economic demands and sustainable.
Health Innovation - enabled by technology
Health Innovation is a key strategic goal for the devolved UK nations. Health Innovation, enabled with empowering digital technologies, is considered a critical catalyst to accelerating delivery of the NHS Five Year Forward View.
Entec Health is in the business of partnering with the NHS and Qualified Healthcare Providers to deliver Health Innovation, enabled by technology and transformation solutions. Our key areas of focus are health innovation in wound management, long term conditions, self-management and health informatics for better health outcomes. Learn more about us:
Top 10 Attributes for Health Innovation - enabled by technology
Entec Health has built a body of field experience and knowledge in facilitating Health Innovation, involving engagement of over 400 stakeholders in 80+ NHS entities. This experience has been largely gained in introducing the Silhouette digital wound assessment and information system (ARANZ Medical) to the UK for transformation of Tissue Viability services and Diabetes Foot services in the NHS. We believe the insights and learning shared here may be of value across a range of healthcare services. Based on this experience, Entec Health has identified the 10 key attributes of successful transformation teams in driving forward Technology-enabled Health Innovation in the UK environment.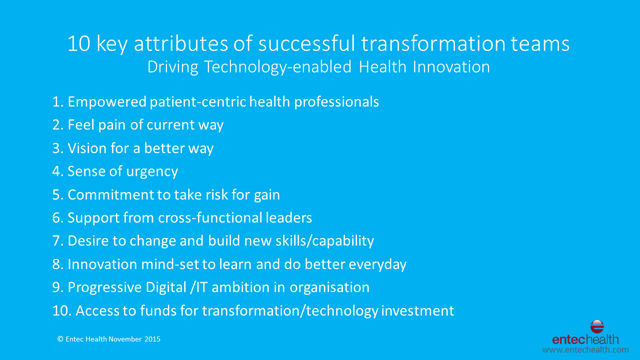 Health Innovation Index - facilitating success for transformation teams
The Health Innovation Index (HII) is Entec Health's home-grown qualitative tool, based on these 10 Key Attributes for Health Innovation. The HII is a simple, observational approach for checking if the right conditions for health innovation exist already or if there is some way to go before the transformation team can move forward.
A score from 1 to 10 is assigned for each of the HII Key Attributes based on what is in evidence in the environment that the transformation team is operating in, with 1 = low, 10 = high.
Similar to a Human Resources appraisal, the attributes are assessed based on finding tangible examples of the attribute which can be observed as behaviours, actions and results.
A perfect HII score would mean a transformation team scoring 10 out of 10 for all 10 attributes = 100 points. Using the HII tool, we can support our clients to prepare for success by leveraging strengths and addressing gaps, to ensure that the conditions for Health Innovation enabled by technology, are very favourable for the transformation team. Collaboration for success.
Health Innovation Index (HII) © Entec Health November 2015
Discover Silhouette - Wound Care ServiceTransformation
Are you looking for innovative ways to improve clinical effectiveness, efficiency, service access and patient experience for your wound care service? Discover how the Silhouette digital wound assessment and information management system can help.
Get in touch - share your vision and goals for Health Innovation
We would be delighted to hear from you. Please contact us for an exploratory discussion.
Health Innovation Index (HII) © Entec Health November 2015
Share this entry